Delivery Information
An order confirmation will be emailed to you after you have placed your order. Items in stock are available on a 24/48 hour delivery schedule. If next day delivery is imperative, please contact our sales office who will be happy to assist you.

Orders received by 12 Noon will be processed for next Business Day Delivery (subject to stock availability)
Orders placed on a weekend will not be processed until the next working day.
(Please note that next day delivery is not guaranteed for large orders of 40 lines or more and some items of heavy/capital equipment. Please contact our sales office to discuss delivery arrangements for large orders and orders for heavy/capital equipment).
All deliveries must be signed for and cannot be delivered without a signature
Delivery times
Our standard times of delivery are:
8.30am to 6.00pm Monday to Friday.
(using Business Post parcel couriers or Palletways pallet delivery network).
Please note that someone must be available to sign for the delivery and Johnsons cannot be held responsible for delayed deliveries due to inaccessible sites or no one being available to sign for the goods.
Please advise of any special delivery requirements at the time of order and our sales team will endeavour to fulfil them. Special deliveries and timed services are available at an extra cost.
Our online delivery terms are as follows:
All online orders under £250.00 exc. VAT are subject to a carriage and packing charge of £10 exc. VAT
Online orders over £250.00 will be delivered free of delivery charge to Zone A & B
Zones C & D will incur carriage charges as below.
Zone E – Contact us for carriage charges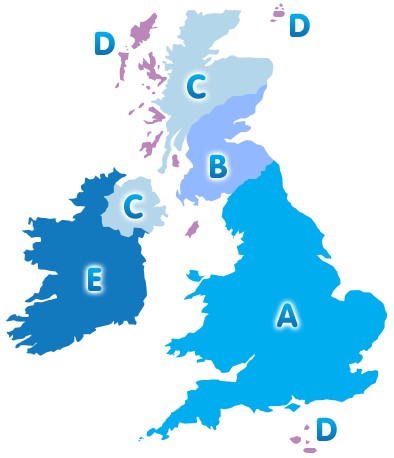 Spend Under £250 Spend over £250
Zone A £10.00 Free
Zone B £10.00 Free
Zone C £20.00 £20.00
Zone D £25.00 £25.00
Zone E Call our sales office for delivery pricing to Southern Ireland